Kenneth Clausen
IT Infrastructure, Security, and App Development
Kenneth is a specialist in IT infrastructure, security, and servers, and is also a developer where, for example, he develops Android and iOS Apps. Kenneth is a partner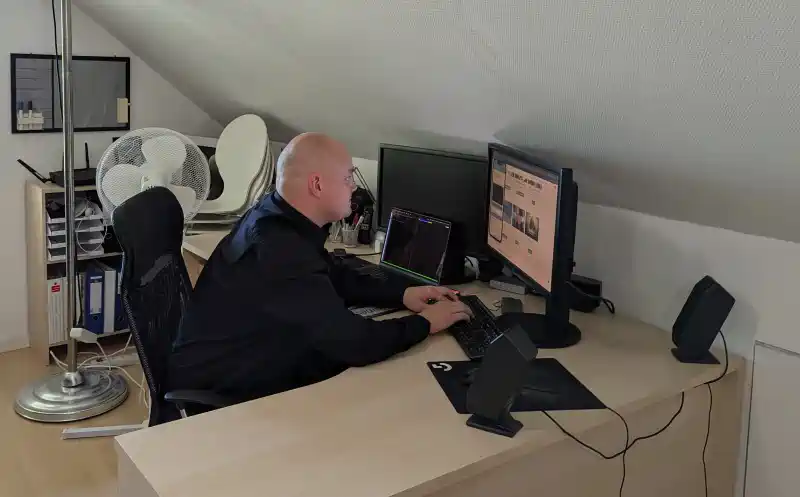 My name is Kenneth, and I am an IT specialist with a wide range of competencies in software security, app- / web development, and IT infrastructure. With my educational background as a PBA in web development and a master's course in software security, I bring a holistic approach to every task.
In my previous work, I have developed both iOS and Android apps and at Flex4Business ApS I have, among other things, worked with ticket apps and scanning apps. In addition, I also have in-depth knowledge and experience with Linux environments and servers, and I understand what is required to create a secure and stable environment for both test and production phases.
Security is an area that I feel strongly for. I always strive to ensure that the systems I work on and the users I serve are protected in the best possible way.
Outside of work, I enjoy kayaking, it is here that thoughts are allowed to flow and ideas emerge. I am also a big fan of smart home technology, and have invested both time and money in building an advanced smart home system in my own home.
My career has taken me through several interesting roles, which have contributed to my professional development.
I have worked as a DevOps Engineer for TV2 Denmark, a system app developer for EG Team Online, and I have taught software and web development at the PBA level.
These experiences have strengthened my professional level in the different areas and have prepared me for the challenges that come in the future.
EDUCATION
Master competency course
Software security

PBA in web development
Web development and databases

Multimedia Designer
Web development, web design, marketing and communication
PAST JOB EXPERIENCE
TV2 Denmark
DevOps Engineer

EG Team Online
System App Developer

Teaching
Teaching in software- and web development at PBA level
SKILLS
App Development
I have experience in developing both iOS and Android apps, so we can deliver apps for, e.g., tickets, scans, etc.

IT Infrastructure

I have extensive experience with Linux environments and servers, and I am familiar with most aspects of what it takes to have a secure stable environment both for testing, and along with a data center in production.


Security

I care deeply about security and keep up with what it takes to best secure systems and users.
INTERESTS
Linux and servers
I am deeply fascinated by Linux, and I love the challenges and the in-depth understanding that comes with working with Linux systems.

Kayaking
In my spare time, I go kayaking, and I enjoy getting out rowing, where you can relax completely.

Smart home
I think smart home is super cool, and have invested both time and money in creating an awesome smart home at home.