Google Bard has now been made available to the public. We have previously written a detailed article about Google Bard, so in this article we will only focus on what's new
Google Bard as a chatbot
Now Google Bard comes in a chatbot form, similar to ChatGPT, where you can chat with it and thereby use Google's AI to get answers.
This means you can have a conversation with it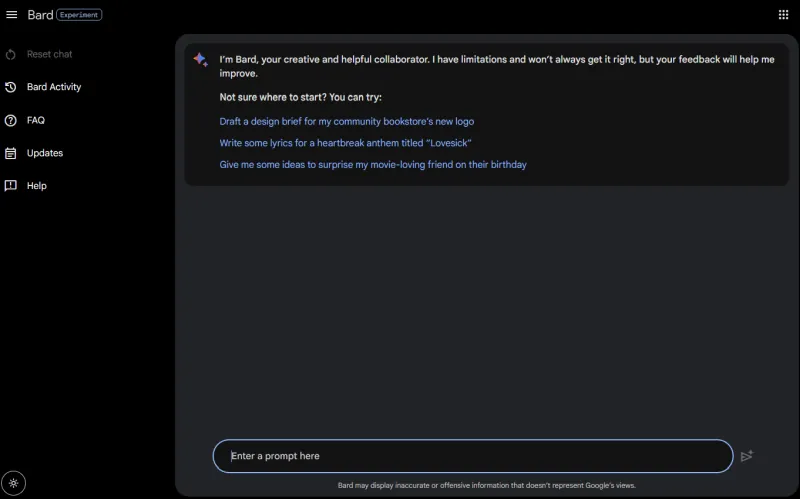 Google Bard is free and can be used by everyone, and already understands many languages.
Google Bard in Denmark and other countries
UPDATE FROM July 13, 2023
As of today, Google Bard now supports more languages including Danish

Visit Google Bard

BEFORE July 13, 2023:
Google Bard was not supported in Denmark and many other countries at launch, and when you went to the Google Bard page you received a message that it is not yet supported in Denmark where Flex4Business ApS is located. Fortunately, this changed as of July 13, 2023

However, you could still try it or other services that have not been launched in your country yet - it just requires you to use a VPN
You could for example use Windscribe which is free and allows you to locate yourself in the US so you can try services that are not yet supported in the country.
Windscribe allows you to download a plugin for the browser, so it can be turned on and off whenever you want. However, we do not recommend that you send any GDPR data through it when using VPN, as all data goes through their servers.
Languages in Google Bard
Even though Google Bard supports many languages at launch - 265 languages if you asked it - and even though it claims Danish is one of them, it unfortunately didn't understand when you wrote something to it in Danish
This has however changed as of 13/7-2023 where Google Bard officially was launched in Danish and in several other languages as well.
Google Bard vs ChatGPT
We have tested Google Bard a bit, and in our test, Google Bard and ChatGPT 4 (requires subscription) give fairly similar results. The answers and solutions are different, and both have gems and sometimes make mistakes.
The quality seems to be just as good for the things we asked about. However, we have not conducted a larger in-depth test or study.

The way they present results is different
ChatGPT: The text is written progressively. If you don't have plus, it can be a bit slow
Google Bard: Sometimes thinks a bit longer but then the whole answer comes quickly all at once
A major advantage of Google Bard is that it's online while ChatGPT only has data up until 2021. However, there has been an option to use ChatGPT online in the Pro version via Bing which will likely return.

We recommend you try both and see which one you prefer, and which one provides the best results for what you need to use it for.