Google Analytics illegal (partially)
As of 21/09/2022, data protection authorities across Europe have scrutinized the use of Google Analytics, concluding that its standard JavaScript implementation, which points to Google's own URLs, cannot be used lawfully. This conclusion was reached after similar decisions by data protection authorities in Austria and other countries.
In this blog post, we will look at potential solutions to the Google Analytics issue, presenting multiple solutions and alternatives to Google Analytics.

July 10 / July 19, 2023:
Google legal again UPDATE: New Schrems II agreement again makes Google legal to use - read more further down
What is Google Analytics?
Google Analytics is the most widely used tool for obtaining advanced website statistics. According to w3techs, it is used on 55.7% of all websites, equating to many millions of pages. It provides statistics about site visits, user behavior, and much more.
Is Google Analytics illegal to use?
According to the decision, Google Analytics itself is not illegal to use. However, the typical implementation method using JavaScript pointing to Google's own URLs results in non-anonymized personal data being sent to Google's servers in the US. This data includes items like IP addresses, which are considered personal data under GDPR.
If instead the implementation is done server-side, one could filter what is sent to Google, thus making Google Analytics potentially legal to use. In other words, it is possible to use Google Analytics legally when a server-side implementation is in place.
However, the downside of using Google Analytics server-side is that it is more demanding to develop and maintain. There should also be clarity over what needs to be filtered out in what is sent to Google to ensure legality. Some functions in Google Analytics might not be usable after this adjustment is made.
It is anticipated that agencies that rely on Google Analytics will start offering updated proxy servers over time.

UPDATE July 10, 2023
There is now an agreement between the US and the EU

UPDATE July 19, 2023 - Google Analytics legal again
Google and Meta are among 2,500 companies in the US now approved by being certified under the DataPrivacyFramework.
The solution
Essentially, there are 3 solutions to this problem:
Solution 1: Stop data collection
One can cease to use Google Analytics and tracking tools and turn them off completely.
Pros
It's cheap
It can be done immediately
Cons
No data collection and no data
Solution 2: Use an alternative tool
One can choose an alternative tool to Google Analytics. This can be done legally as long as the tool is based on European servers, as it's not Google Analytics itself that's illegal, but rather the fact that data is stored on American servers.
There are several alternatives such as:
Matomo
Plausible
Fathom
Simple Analytics
https://www.simpleanalytics.com/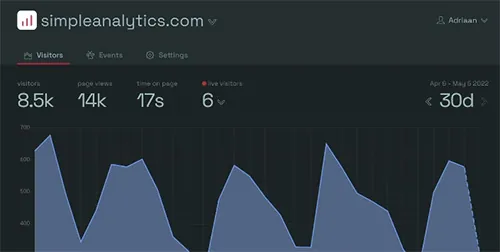 Dreamdata
Piwik Pro
and many more.
Advantages
Provides roughly the same data as you got in Google Analytics
Is legal to use in Europe
Disadvantages
Monthly costs (however, Piwik Pro has a free version)
New tool and thus "starting from scratch" with data collection
Solution 3: Setting up a proxy for Google Analytics
Google Analytics can be made legal by setting up a proxy and ensuring that data sent to Google is anonymized before it is sent. In this way, there is full control over personal data on European servers, while the part Google receives and processes does not contain data with personal information.

A large part of the features you know from Google Analytics will be lost here, as you will not be able to get the data normally used for marketing efforts, and you will no longer be able to see where the users come from, for example.
Advantages
Google Analytics can be used legally
You can still use the tool you know
Agencies can still offer the service
Disadvantages
Can only be used as a website behavior tool
Light version of the Google Analytics you know
Cannot see where users come from
Remarketing lists for Google Ads are not possible
You will no longer be able to upsell in the same way
Solution 4: Google makes Google Analytics legal
Here you are dependent on Google making Analytics legal. It may well be something they are working on, but as it is now data is processed in the USA, and it will therefore require a significant change in their data structure. Therefore, you should not expect it to happen right away.
Advantages
Google Analytics can again be used normally
Disadvantages
Takes time, if it happens at all, as Google has to make it legal by changing their structure and then get it approved
Solution 5: The EU and the US reach an agreement
Another way Google Analytics can become legal again is if the US and the EU come to an agreement which means that European data must be transferred to the US.

UPDATE July 10, 2023
There is now an agreement between the US and the EU

UPDATE July 19, 2023 - Google Analytics legal again
Google and Meta are among 2,500 companies in the US now approved by being certified under the DataPrivacyFramework.
Google Analytics in the Flex4B system
Like most other systems and open source systems, we have used the standard implementation in JavaScript with Google's URLs (which was also the recommended one), which means that it is no longer considered legal in many European countries.

It has not been legal to use it until 10 July / 19 July 2023, and you have had to find other methods - e.g. use proxy solutions that marketing agencies dedicated to Google Analytics have made available
Per On 10 July 2023, however, an agreement has been reached which makes data transfer between the EU and the US legal, and as of On 19 July 2023, we have received confirmation that Google (and Meta) is approved, among other things. approx. 2,500 companies.
You can therefore now again simply use the standard version of our Google Tag Manager plugin, and no longer need to use a proxy as long as the rules are otherwise followed
Run Google Analytics through an agency with a proxy
Our Google Tag Manager plugin allows you to set up your own URLs instead of running them through Google's own URLs. This means that you have the opportunity to use services that provide this. In this way, you can now use a marketing agency and Google Analytics that has a Proxy server available and as long as they follow all the rules, you can legally use Google Analytics.

As a customer, you should be aware that activating this plugin falls under the category "The plugins that require the data controller to create an account directly with the provider the plugin deals with" according to the data processor contract, and that you as a customer must therefore ensure to have a data processing contract with the provider you choose and that Flex4Business ApS is not responsible.
Google Analytics legal - update 10.-19. July 2023
As a result of the new Schrems II agreement between the EU and the US, it is now again legal to use Google Analytics and other US services.
In order to do so, the American companies must be certified under the DataPrivacyFramework. The EU Commission has approved this as a sufficient basis for data transfers to the USA.
At the present time (19 July 2023), over 2,500 companies are approved, including Google and Meta.
Of course, this still requires compliance with other requirements of the GDPR, including agreements on data processing
This means that customers can now again use Google Analytics legally without a proxy, if all requirements for GDPR and any additional requirements are met.
Alternatives in the Flex4B system
We are also constantly working to find alternatives to Google Analytics that can also be supported, and we would love to hear from our customers if they have other alternatives they want to use (which only use European servers).
Please contact us if you have another provider you would like to have implemented. We support most major European alternatives, and if any are missing, they can be quickly set up in the system. Below you can see the dates when we started supporting the various plugins.
Update d. 22/09-2022 at 20:57: FATHOM and PLAUSIBLE
We have worked quickly and now support Fathom and Plausible as per our customers' wish as alternatives to Google Analytics. We are working simultaneously to create a legally usable version of Google Analytics, but need some information to ensure we filter correctly so we ensure it is legal.
Update d. 01/10-2022 at 13:02: MATAMO CLOUD
We now also support Matomo Cloud, which of course also runs on European servers. This also means support for what was previously known as Piwik.com, as it has become part of Matomo.
Update d. 04/10-2022 at 06:01: SIMPLE ANALYTICS
We now also support Simple Analytics, which is another European alternative to Google Analytics.
Update d. 05/10-2022 at 19:35: DREAMDATA
We have added another one. We now also support Dreamdata, which is also a European alternative to Google Analytics.
Update 28/11-2022 at 11:45: PIWIK PRO
We now also support Piwik.pro (Piwik Pro) which has a FREE version (core plan) based on usage.
Read More
We have gathered some links that both document the above blog post and touch on some related topics (some in local languages):
Again legal to use Google Analytics - 10 July 2023